Google Ads is a MUST in digital marketing strategies for most industries and not a lot of businesses have the ability to produce high quality campaigns in house, hence the need to outsource for a Google Ads Agency to assist with implementing these campaigns. There are so many issues with this process though, agencies can over-promise and under-deliver, sometimes campaigns just don't perform, other times the agency just isn't a fit for your businesses growth. Whatever the reason may be, there is a moment where you think to yourself, "maybe I should start looking for another agency to run my Google Ads?". You know what? Maybe it is time for exactly that…
Here are 5 of the main reasons you should consider moving on from your current Google Ads agency and reassess your options:
1. Your agency is focused on 'vanity metrics'
This is an all too common method agencies use to make their Google Ads performance look as good as possible, without telling you the exact level of performance. It's human nature to feel warm and fuzzy when a post has thousands of views or you have a large amount of "impressions" on your campaign, but do these really tell you the full story about how effective your campaigns are running? The answer is no.
When you get reporting or a break down of how your campaigns are running, there are some much more important metrics that should be highlighted by your agency:
– Return On Ad Spend. This metric takes the cost of your ads and divides it by the overall conversion value, giving you a very solid idea of how much money you are getting in return for your investment.
– Cost Per Click. Knowing how much each click costs and whether this increases or decreases can tell you a lot about the industry, seasonality and even how your competitors are bidding on similar keywords.
– Cost Per Conversion. Similarly, you should also know how much each conversion is costing you. This allows you to forecast budgets, identify opportunities and really take advantage of the Google Ads platform in general.
There are plenty or other important metrics, but highlighting the 3 above allows the client to be informed about the overall performance of ads and less about the "airy fairy" metrics that are used to mislead you. If the important metrics aren't being highlighted, this should be your first major red flag.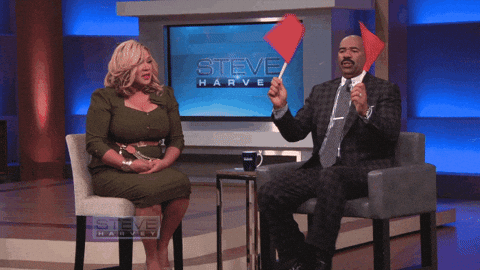 2. Your agency doesn't give you full access to your Google Ads accounts
Oh boy… Another very dodgy tactic by agencies that we still don't understand why they exist these days. Some agencies will have a set up in which you aren't the main admin of your Google Ads account, or even worse, some agencies will create their own Google Ads account and own your ads completely. This is a disaster and something you should avoid at all costs.
It is very easy for a Google Ads Agency to link their main account to your ads account, so that you are still in complete ownership of your account and they can work on it as required. Always remember, you are completely in control of your business and your Google Ads account is a part of your business. You should never feel like you can't have input or a say into how your ads are set up and the partnership between you and your agency should be seen as collaborative.
We will only say this once more. DO NOT WORK WITH AN AGENCY WHO INSISTS ON OWNING YOUR ACCOUNTS. This will save you a lot of money and heart ache.
3. No Negative Keywords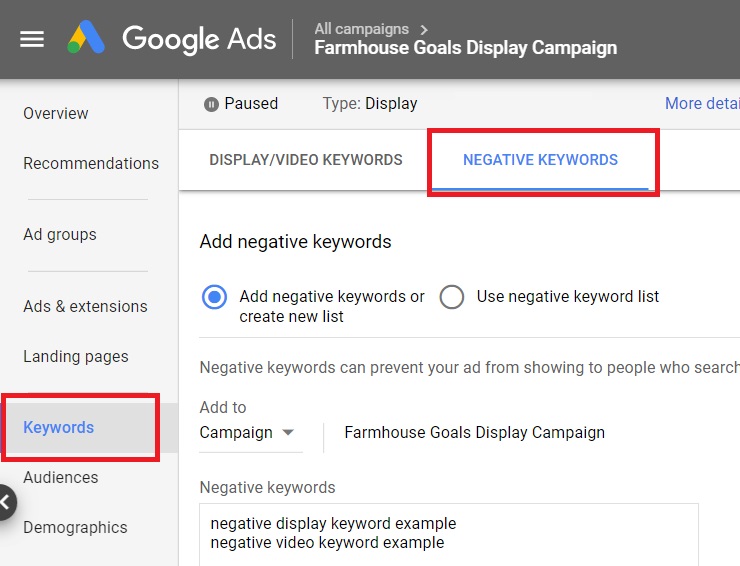 There are a range of other important campaign optimisations that should be considered, but by identifying whether or not your Google Ads Agency is looking into negative keywords should give you a pretty good understanding of their skill level and by bringing this to their attention, you should be able to figure out whether or not they are worth keeping around for the long term.
4. Performance isn't improving / scaling
Growth – that is why you outsourced your account to an agency in the first place. There should be a clear path for improving campaign results and a proactive to increase your ad spend based on the improvement in your return on investment. Google Ads is often seen as a short term, "plug and play" solution, but a valuable agency will have a short term, mid term and long term strategy where they can show you how they are improving website traffic and conversions whilst reducing the cost per click and cost per conversions at the same time.
You should be asking your agency: "How is my campaign comparing to the previous month? How is it comparing year on year? Why is it looking like this and what is the plan to improve it going forward?"
If the answer is: "We have gotten you a lot more impressions and your account looks healthy" – you should be extremely concerned.
If the answer is: "Currently your cost per conversion is X and we expect to reduce this by 20% over the next couple of months. We've also identified opportunities for these particular keywords based on some competitor analysis and we are working towards improving your campaigns overall conversion value by 10% month on month" – then you should have a little bit more faith in their explanation and how you feel about partnering with them.
5. Your agency isn't monitoring and updating your account regularly
Another good way of figuring out whether your Google Ads Agency is on top of things is to see how often they are making updates on your account. Granted, it's not always a strong strategy to be making daily optimisations on your account, but if your account hasn't been touched for 2 weeks then there should be a level of concern.
Google Ads campaigns aren't like a fine wine, you can't set up the accounts and let them stand still until they hit their prime. They require ongoing optimisations and someone keeping an eye on their performance to constantly identify what the next move is. Always remember that while you might be hanging around waiting for things to happen, your competitors or the agencies working on their accounts are constantly refining them and improving their performance, which makes it more difficult for your ads to perform at their peak.
All of the above 5 situations should be easily evidence enough to know that your Google Ads Agency isn't a fit and probably deserve to be fired on the spot. At the end of the day, this is your account and you want a partner who is doing EVERYTHING they can to improve your results. Plain and simple.
If you would like our team to audit your existing Google Ads strategy, you can do so by contacting us today.